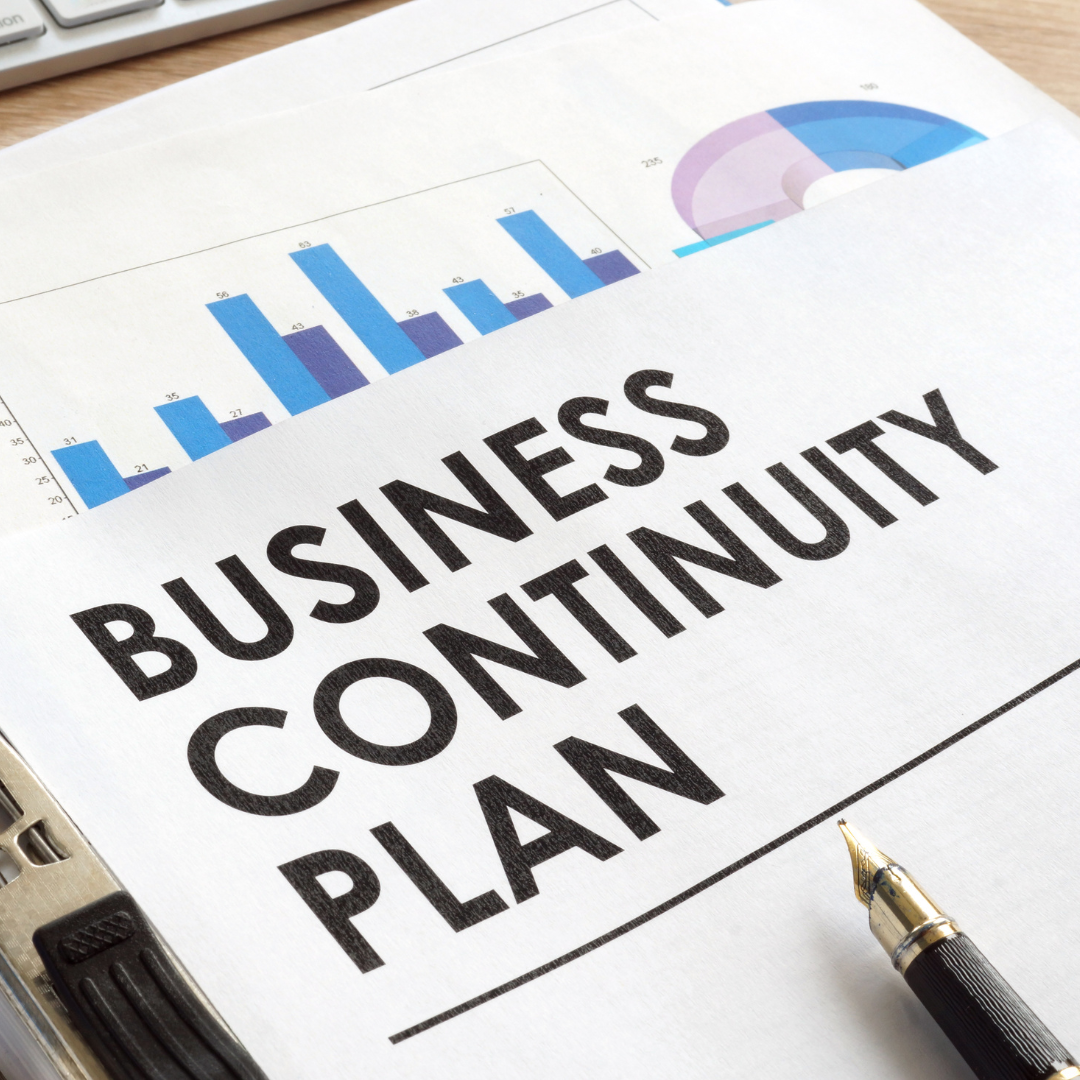 Everything You Need to Know About Business Continuity Plans
Business Continuity Plans
Chances are if you're visiting this page, you are new to the concept of Business Continuity Plans (BCPs) and business continuity overall. You may have just been asked if you have business continuity plans by a current or potential customer. Maybe you were asked by your manager or a business owner to create a business continuity plan for the business or department. If this is the case, you're in the right place to learn everything you need to know about business continuity plans.
If you're a seasoned professional, stick around and read through the page and I hope you can learn something new. Or, if you feel like something is missing feel free to add your input in the comments below. I'll also add to this article over time as things change or develop as needed, or as I learn or try something new.
Let's get started with perhaps the most basic question, what is a business continuity plan?
Definition of Business Continuity Plan
A business continuity plan is best described as the plan you would use if your business were impacted by a disaster or disruption so that you could continue providing goods and services to your customers and clients. I also like to just call it disaster planning for business. I prefer this because I like to keep things as simple as I can. Also, I have a feeling the above definition is most likely the one you will remember best.
For a more complex version of what is a business continuity plan, let's look at the official definition from the Disaster Recovery Institute International (DRII) Glossary: A documented collection of procedures and information that is developed, compiled, and maintained in readiness for use in an incident to enable an organization to continue to deliver its critical products and services at an acceptable predefined level. NOTE: DRII takes this definition from the Business Continuity Institute BCI and Disaster Recovery Journal DRJ.
Another definition from the Federal Continuity Directive 1 is, Continuity Plan is a documented plan that details how an individual organization will ensure it can continue to perform its essential functions during a wide range of events that can impact normal operations.
While business continuity has been in practice since the 1970s and could be argued that it has been around since the 1950s through strategic planning it is something that is not common knowledge. We'll get into the history of business continuity in another upcoming article. For now, we'll just focus on where we are at today.
Today what we are seeing is what I like to call "trickle-down continuity." What I mean by this is that most large enterprises have business continuity plans in place and they are frequently requiring their vendors and suppliers to have similar plans in place. More specifically, they are requiring suppliers to have plans in place to support the continuing production of the goods and services they supply to them.
For smaller and mid-sized businesses, the first time they even hear the phrase business continuity is often through a request from a current or potential client asking if they have a business continuity plan in place.
As mentioned earlier, most larger enterprise-type businesses not only have business continuity plans in place but entire business continuity programs that manage the entire business continuity lifecycle throughout the business. You can learn more about business continuity and business continuity programs through our recent article what is business continuity?
The business continuity plans are commonly developed around the core business functions and processes that are needed to support the key products and services provided to customers. For small businesses, it is common to have just one all-encompassing plan. For businesses that have multiple departments, multiple products, multiple services, and many moving parts to the business, it is best to have multiple plans for each of these functions.
What Goes into Business Continuity Plans?
As I just mentioned you'll want to focus the business continuity plans around key business functions and processes. We'll take a deeper dive into those business functions later, but let's first focus on what goes into creating effective business continuity plans.
Typically, each business continuity plan contains certain key elements that are considered critical to the business operations. Some businesses include additional information specific to their business or operational area they deem important or even critical to the recovery of the department or function the plan is created around.
One important thing to know is that the Business Continuity Plan should contain all the information required to implement the processes and strategies to perform the business functions contained in the plan. They should also have steps listed supporting the strategies in such a manner that someone of the same skill set should be able to follow them, take the appropriate actions, and complete them.
For the purposes of this article, I will discuss the typical elements that go into creating a business continuity plan and lay them out as they would actually appear within your business continuity plan. If needed, feel free to copy the format and use this as your business continuity plan template.
These key elements are as follows:
Cover Page
Table of Contents
Business Continuity Plan Governance (sometimes omitted if in a Business Continuity Charter)
Business Continuity Statement
Business Continuity Plan Introduction

Purpose
Scope
Assumptions
Plan Activation
Roles

Business Continuity Planning Committee
Plan Revision Tracking and Approval
Key Contact Information

Internal Contacts
External contacts

Key Vendor Contact Information
Insurance Contact Information
Other Key Service Provider Contact information

Risk Assessment Key Findings
Business Impact Analysis Key Findings
Critical Recovery Timelines
Crisis Management Levels
Crisis Communications

Internal & External Communications plans & templates
Notification
Status Reporting
Status updates

Recovery Strategies & Steps

People
Properties
Processes
Technology
Vendors

Annual Exercising & Testing
Annual and Ongoing Review and Maintenance
Appendices with Supporting Documents, Tracking Logs, and Recovery Forms
The above is not meant to be an exhaustive list, but it is a great place to start with your business continuity plans. To some, the above list is also a bit of what they would call overkill as many of these items mentioned can be placed into crisis management documents.
While it is true that this is a lot of information to include within your business continuity plans, we are also working on the assumption that you do not have any planning done previously.
Let's look at each area individually.
Cover Page
The business continuity plan cover page contains some key information. This includes the name of the plan, who the plan owner is, the date the document was last updated, and the version number.
All of this information allows you to quickly determine if this is the appropriate plan for the needed business functional area recovery and that it is the correct and most up-to-date version of the business continuity plan. 
Naming conventions usually follow a specific format that aligns with the needs and requirements of the business. Such as the following examples: 
Table of Contents
This may seem silly but including a Table of Contents within your business continuity plans is important to finding needed key information quickly in a crisis. Placing colored tabbed pages enables this even further.
Often these documents can grow quite large. Creating clearly defined sections and colorizing those makes it even easier to quickly find the information needed at the moment a disruption occurs. It also allows the main document to be broken up into sections so that the smaller documents can be distributed to teams to run each section. These sections can be created logically such as Operations, Finance, or broken into business recovery areas.
Business Continuity Plan Governance
For businesses that implement an entire business continuity management program, they will usually start by creating a charter that provides the details, framework, and lifecycle around the creation and processes around how the program will be run and how the plans will be created, maintained, and exercised.
For those smaller and mid-sized businesses that do not have a formal business continuity program in place, you'll either want to create a governance plan or at the very least mention how the plans will be governed and created. Long-term, this should be done as a separate document.
Business Continuity Statement
Each plan should have a brief but informative Business Continuity Statement. These Statements are usually just one or two paragraphs but are never longer than a single page detailing the importance of business continuity to the business or organization. The mention of any alignment to the business mission statement and reasons for having a business continuity plan and program.
Usually, the business continuity statements will also make mention of any customer, regulatory, or other requirements the business is subjected to.
Additionally, it is also common to develop other customer-facing business continuity statements about the state of business continuity within the business and the importance of these plans and programs. Sometimes it will also include a section of Frequently Asked Questions (FAQs) and their answers with information about what to do for inquiring about these programs further. Business continuity statements such as these are often placed on the business website or in a package given to potential and current customers when they ask about your business continuity plans. 
Business Continuity Plan Introduction
The business continuity plan introduction is usually focused on the individual plan itself. It provides the overall high-level information as to the purpose, functions, and processes of what the business continuity plan is for. It may include the number of strategies or key functions the strategies are focused on.
Purpose
The introduction should also include a brief statement on the purpose of the business continuity plan as it pertains to the business and the key department and functions as part of the plan. This should also outline the specific activities of the plan including:
Detailing the departments and/or functional areas the plan covers and calling out the specific supporting processes that role up into the function
The key purpose – is the capability to restore these departments, functions, and processes to an acceptable level to support the goods and services provided to clients
Ensure a consistent and timely response to business disruptions
How the business and teams will work to recover these key elements in strategies and steps
Scope
The scope of the business continuity plan usually defines the key areas covered as part of the plan. This also sets the framework that can be applied across a variety of situations, events, disruptions, or disasters as the crisis dictates such as the loss of workspace, workforce, loss of a critical provider, vendor, or loss of technology.
Though some businesses develop plans based on a specific scenario or utilize scenario-based planning contingencies, it is best to set a scope a step above these scenarios. This is also a method similar to that in emergency management as All-Hazard planning.
For instance, rather than planning for a fire impacting the business, it is better to plan for the potential loss of the use of your facility. In the end, planning for and coming up with strategies for the loss of your facility, allows you to have these contingencies in place for a variety of situations that could render your facility unusable for any length of time.
The following are key things to include as part of your scope:
Loss of Workplace:
Loss of a workplace addresses the temporary or permanent unavailability of a primary work facility. Include the primary location of the facility in a manner such as shown
                [City, State] – [Insert Building Address]
Reduction in Workforce:
A reduction in workforce accounts for the temporary unavailability of the primary staff that supports the delivery of a given business process
Loss of vendor:
Loss of vendor services addresses the loss of core critical vendors and suppliers that support business operations
Loss of Technology:
Loss of technology addresses the loss of one or more core critical technologies including, applications, data, data center, and network, hosted and delivered by the Technology Department.
Assumptions
As part of your business continuity plans, you will come up with a core set of assumptions that will be part of your overall planning. These assumptions include parameters around the available services, components of business response, and capabilities, that are required for the business continuity plans to function as designed.
Should these assumptions not be aligned at the time of an event, disruption, or disaster additional modifications to the recovery strategies as outlined within the plan will need to be enhanced, changed, or improved upon.
Below are typical assumptions contained in a business continuity plan:
General Assumptions
Public transportation & infrastructure is available, and not disrupted
Personnel & team members can travel, as required
At a minimum, one identified method of communication is always available including email/instant message, land-line telephones, and cellular telephones
Some, experienced & trained personnel familiar with the department's activities and the Response Procedures are available
Civil society infrastructure (e.g., Government, School Systems, Public transportation, Public Communications Networks, Utilities, etc.) may become stressed (short-term delays/disruptions) but will always remain reasonably functional
Plans are reviewed and updated upon material change or annually at a minimum
Disruption Specific Assumptions
Loss of Workplace:
Only one primary site or location is impacted or disrupted at any time
The length of the Workplace disruption may exceed 30 days in duration
Alternate sites & locations are not impacted and are available for recovery use
Any information/records/inventory/etc. not stored offsite will be inaccessible or destroyed
Specialized/unique equipment at the Workplace may be destroyed/damaged/unavailable
Remote access capabilities (VPN) can accommodate large-scale remote access of displaced employees either in a remote or relocated fashion
Ample physical workspace is available and geographically distributed footprint to accommodate critical/essential employees requiring physical workspace for an unspecified period
Reduction in Workforce:
Up to 50% of normal staff may be unavailable for 4-6 weeks
Other local and remote locations may suffer staff shortages concurrently
Key personnel may be unavailable/impacted (single-points-of-failure)
Standard Operating or Desktop procedures for the daily performance of business operations are documented, available, and managed by the owning business process department
Loss of Vendor:
Only one critical provider (e.g., vendor/provider/supplier/dependency) is unavailable at any given time
Providers will be able to re-establish services within their contractually stated SLAs as agreed upon and implemented between the business and its third-party vendors and suppliers
Loss of Technology:
Application restoration (Recovery Time Objectives and Recovery Point Objectives) and the overall Information Technology recovery timeline are estimated and actual RTO/RPO values are estimated
Business Continuity Planning will be for the loss/unavailability of an individual or single applications
Estimated workaround procedures, capabilities, and timeframes may change significantly due to a multi-application disruption scenario.
Business Functions
One of the key things to include as part of the scope is which key business functions to include as part of the business continuity plan. These should be core critical functions that are directly tied to providing core goods and services to customers that produce revenue or are tied and interdependent to revenue-producing activities.
You'll also want to account for service level agreements (SLAs), regulatory requirements, reputational impacts on the business, and perhaps more. 
Plan Activation
You will want to place language within the plan that describes who, when, and what specific events and situations will cause the Business Continuity Plans to be invoked if you know them. Alternatively, especially among immature business continuity programs, crisis teams are activated and plans are invoked only after assessments confirm the need to start business continuity processes.
In other businesses that have more mature business continuity programs, you will often find pre-defined protocols for when to implement the business continuity plans. Some managers have authority and experience as to when to invoke all or parts of a business continuity plan. These are usually implemented over time based on previous experiences that led to situations where partial or full plans had to be invoked. An example of this would be the impact on a business supply chain or supplier and some of these processes need to be shifted quickly. 
Roles
You will need to include roles and responsibilities within your plans. Such roles should include Business Continuity Plan Owner and one alternate as well as team members responsible for implementing the BCP Procedures and strategies listed within the business continuity plans.
Responsibilities
Additionally, include clear responsibilities for each member of the Business Continuity Plans. Business Continuity Plan Owners are generally responsible for coordinating the team members and managing the invocation of the BCP. Though, they may also have to be the primary person implementing the plan if needed.
The team members are usually involved with performing the procedures in implementing the BCP as required. Any alternates are responsible for filling the roles where the primary person is unavailable.
Business Continuity Planning Committee
This is another element that is often covered in a business continuity charter document. However, again, small and mid-sized businesses may opt to include this information within their plans to address the lack of a formal charter. It simply outlines the purpose of the committee and the people on the committee. If the business is small enough, the committee may be the people involved in the plans themselves. 
As you select your committee make certain you choose someone to chair the committee and a Candance of how often the committee will meet.  
Plan Revision Tracking and Approval
A key element of any business continuity plan is to include plan revision tracking as well as the approval status and the current version of the plan is in.
This provides document control and ensures that when the plan is needed for use, those participants are utilizing the correct version of the plan. It also provides evidence of improvement over the course of time.
A Typical plan revision tracking looks something like the following:

Some plans will have a separate section for approvals like the below:

Additionally, the cover page of the plan will often have the version number as well. Long-term tracking is usually done in the appendix area of the document.
Key Contact Information
Every business continuity plan should contain key contact information for various areas. The most important contact information that should be in the business continuity plan is for the plan participants. These should be plan owners, functional area and process owners, and key people that will implement the business continuity plans upon invocation.
Be sure to include not just work email and phone numbers for these people but be certain to also include personal email and phone numbers so that these team members can be contacted during an emergency that may occur outside business hours.
Other key contact information should include the following:
Internal Contacts
Other additional internal key contacts should be included that are pertinent to the viability of the plan. Such as Incident Response Team members and their contact information. Other internal contact information may include other teams as well.
External contacts
You'll want to include important external contact information. Some of this information can be broken into separate sections such as critical customers, critical vendors, and service providers, or placed on a single page if it fits.
You'll certainly want to include contact information for the following:
Facility Management Provider/Building Owner
Utility Providers
Key Contractors – Electrical, Plumbing, cleaning, Locksmith, etc.
Internet and Telcom Providers
Legal
Insurance
Local Emergency Numbers beyond 911
Local hospital numbers
Local Emergency Management Office Numbers – EOC
Restoration Cleanup providers
Document Recovery and Salvage providers
The above is not meant to be an exhaustive list but a starting point. You'll want to add external contacts based on your own business needs and concerns.
Risk Assessment
A Risk Assessment (RA) is often one of the first things you'll do after the initial business continuity program creation. You'll want to include key findings from any risk assessments that were performed. You do not need to include everything or go into deep detail about the risks the business faces. Keep it a high-level overview, and perhaps a direct list of the top 3 -5 risks but I would not go beyond the top ten risks the business is facing.
Business Impact Assessment
The business impact Assessment or more commonly referred to as the Business Impact Analysis (BIA) is the method for assessing the impact various events will have on the business. You will also want to document that the business has conducted a business impact analysis (BIA) within the business continuity plan. Again, there is no need to document this in fine detail. Just the high-level key findings discussing the greatest potential impacts to the business, the potential monetary and operational impacts, and how you might respond in a high-level way.
Critical Recovery Timelines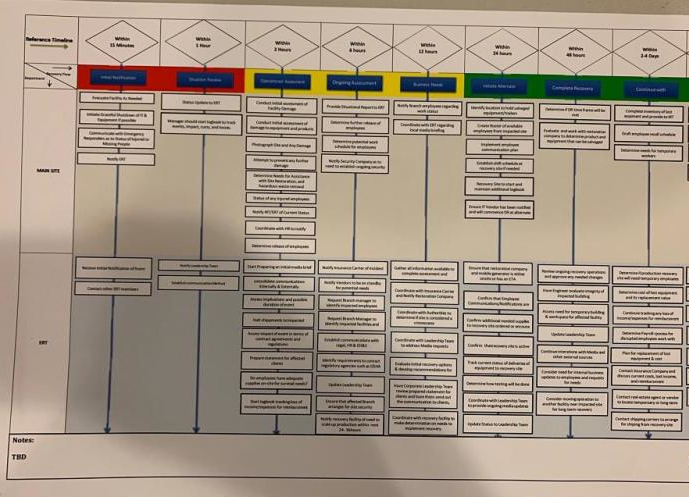 You will want to lay out any critical recovery timelines that are key to the portion of the business continuity plan. You'll want to include your Recovery Time Objectives (RTOs) for each process and the Maximum Allowable Downtime (MAD) for the function.
The below image is a sample Recovery Timeline Chart. It lays out each stage of the recovery process and is put into a timeline format so that a business can gauge where they are at in the process and how long it may be estimated to last.
The timeline is not a set-in-stone timeline, but an approximation based on things that usually happen during the recovery phases.
Crisis Management Levels
In many cases, a business continuity plan will also set different crisis management classification levels. Though again, more often placed within Crisis Management documents, some plans include a variation on specific levels of a crisis.
For example, a level one or L-1 could be a crisis or incident in which a facility has sustained damage, but it is minimal and contained within a specific area. The building can be entered but might be closed for up to 5 days or one business week for repairs. On the other hand, a level four or L-4 can mean major damage to the facility. The building is incapable of being occupied and repairs could take a month or longer. Delays in getting permission to enter the building to conduct repairs started are possible.
Ultimately how and what you decide to call out different levels of crisis or sustained damage will be up to you. Creating a defined set of criteria for this beforehand makes it easy to determine what level you will likely be at and works in conjunction with your recovery timeline to gauge how long your business could be disrupted. It also saves you significant time during the crisis trying to figure out how long the disruption and recovery might take.
Crisis Communications
Another key component to include within your business continuity plan is a crisis communications plan. This should primarily be centered around how and when to contact the key specific team members needed to enact the business continuity plan elements during an invocation.
As mentioned previously, key contact information should be included within the business continuity plan so that you don't have to go hunting for that contact information when it is needed most.
The crisis communication part of the business continuity plan should include who to contact or how initial communications during an incident or crisis should be made. This includes notification and activation of any crisis management team, the business continuity team members, management, and or key specific employees.
Notifications
Notification of staff, management, and crisis teams is essential during an event or crisis. The quick this is done, the better the response and outcome you'll likely have.
It is best to set up predefined steps and systems to provide these notifications ahead of time. It can be done through a third-party notification system, through email, by phone, or any other method or combination of methods you choose.
One common method still used today is using a call tree to have designated people call specific recipients. If you have a recovery team, crisis management team, or incident management team (or other terms of your choosing) they should be one of the first groups to get notified.
Call Tree
A major element of this should also include a Call Tree element of who is supposed to contact whom. The call tree is usually utilized in making initial notifications of an event. It doesn't need to be complex but should be clearly defined. An example call tree is shown below.
Communication Templates
As part of your Crisis Communications, you will want to develop crisis communication templates to utilize during an incident, crisis, or disaster. You should have two sets of templates created. One for internal communications and another set for external communications.
It's best to create some predefined templates with a fill-in-the-blank format so that they can be created quickly, and efficiently so that people aren't scrambling for what to say during a crisis.
Internal Communications
For internal communications, you'll want to have key specific messages sent or provided to employees. Some key quick messages that should be ready are:
Notifications to staff on staying home, working remotely, or reporting to an alternate location
Notifications to stand-by, and/or wait for further instructions
Notifications to call specific phone numbers, at specific times for additional information and instructions
External Communications
As for internal communications you'll want to have clearly defined external communications ready for several different recipients. For example, you'll want to communicate one message to your customers if needed as to what happened, how long you expect to be disrupted if you have disruptions, what you are doing specifically to continue to provide goods and services, and how long you expect to be operating at this level if known and any contact information where they can call in for additional information, or better yet when the next update can be expected.
You'll also want to develop messaging for your vendors and a third set of communications to provide to the media and for public consumption.
Picking a Spokesperson
You'll also want to pick a spokesperson or Public Information Officer (PIO) especially if you need someone to talk directly to the media. While most businesses make their own choices as to whom the spokesperson will be, we recommend that the person chosen should have some type of media training.  
Status Reporting and Updates
As part of your crisis communications, you should have a system set up for receiving incoming status updates as well as reporting out status and situation reporting. Typically, this is done hourly, but your crisis response team should set the tone and pace for outgoing updates.
In setting the tone and pace be certain to end each update with a specific time as to when the next status report update will occur.
For more on managing a crisis please see our article on Crisis Management Response and Teams that we will be posting soon.
Recovery Strategies & Steps
The development, creation, and inclusion of recovery strategies and their supporting steps is a key fundamental element of your business continuity plans.
Without them both your business continuity plans will be lacking the necessary steps to implement the required processes to provide minimally acceptable functions to provide a continuation of goods ad services to customers.
In fact, one of the reasons why business continuity plans fail is the lack of viable strategies backed by actionable steps.
As we mentioned earlier, it is best to create strategies around certain key specific areas, rather than specific scenarios. The more strategies for each area that you have the greater the likelihood that you will be successful in your ability to execute and continue your business operations.
Here are those key Areas:
People
When creating strategies for your personnel you should start by thinking in terms of sudden and severe staffing shortages. Some questions to consider are:
What is the minimum number of people required to run or implement a function or process?
Do we have cross-trained people that can backfill or shift to cover that function or process?
Does moving personnel to cover a function or process leave another function short or incapable of being completed?
Can personnel on shifts work longer or different shifts without impacting output or capacity?
Can this function or process be completed easily by temporary workers?
Do we need to hire new workers?
How long will it take to train new or temporary hires?
Of course, the above doesn't account for every situation. I have clients that operate globally, and they have plans to send key staff to other geographic locations in situations where personnel need training. Strategies such as this require additional elements and planning steps. For instance, could a person easily enter the destination country? How long can they stay? What other logistical considerations are required? All these things should be thought out beforehand.
Each strategy selected should be put into place in the order of preference or order they should be completed. If there is no specific order of preference for the strategies, they can still be numbered to track the various options you have available to you. Here is an example:
Strategy 1 – Utilize Existing Staff to Backfill
Strategy 2 – Hire Temporary Staff
Strategy 3 – Hire New Workforce
Steps
Each strategy should have clearly defined ordered steps that should be taken once a strategy is to be implemented. Let's look at the above Strategies and Call out steps to complete each.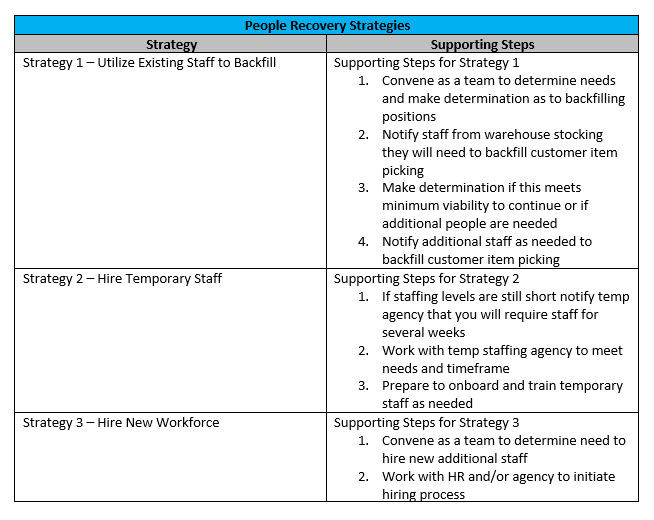 Again, the above is not meant to be all encompassing but to provide you an idea as to what is required to support each step. The more specific you can make it the better it will be. For instance, instead of saying call temp agency to increase staffing levels, call them out by name, like this – Call XYZ Staffing Agency at (123) 456-7890. If you have a key contact or account manager there, you can even include, ask for Betty or Steve. The more specific you make it for your business, the better, smoother, quicker, and more efficient your recovery operations will go.
Property
Most businesses will just be concerned about facilities in this section. While that is the key focus here, I also utilize this section for critical and key assets and equipment as well. In this case we break them into their respective sections and have one for each – Facilities, Equipment, and Assets.
In one case, a client we had many years ago was an original equipment manufacturer in the high-tech industry. One of their key pieces of equipment was a million-dollar scanner and had a long lead time. The business had only one of these at the time we were developing their business continuity plans.
The main strategy was to relocate the equipment from the main facility to an alternate facility across the globe by moving it and flying it to an overseas facility until they could acquire an additional one.
Just like in the section for People, Property should lay out each strategy and the supporting steps. Let's look at some examples for the loss of your facility:
Strategy 1 – Have Staff work Remotely
Strategy 2 – Utilize Space at Vendor Location
Strategy 3 – Utilize Alternate Location
Strategy 4 – Acquire a New Location
Steps
Again, each strategy should have clearly defined and ordered steps to take for each strategy called out.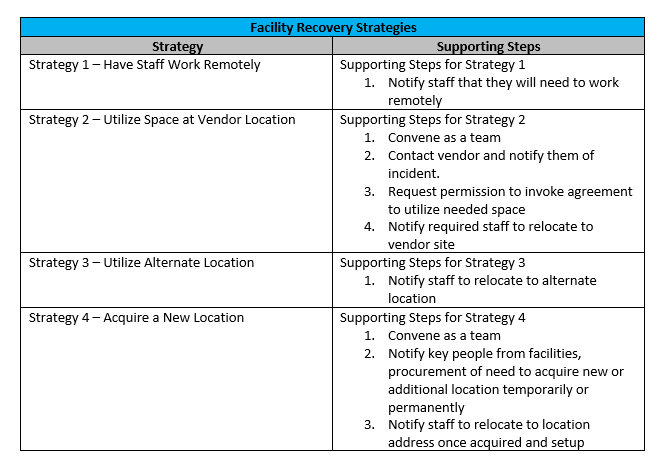 Follow the same steps above for each additional critical asset or piece of critical equipment for the function or process.
Process
For each process that this department or function requires document the strategy and steps that will be implemented to complete them.
Let's look at a few examples of how some businesses handle strategies to implement processes and tasks outside their normal methods.
Strategy 1 – Utilize Alternate Method – Spreadsheet  
Strategy 2 – Utilize Alternate Method – Notify Bank to Utilize Previous Weeks Payroll
Strategy 3 – Utilize Alternate Method – Use Phone to Take Customer Orders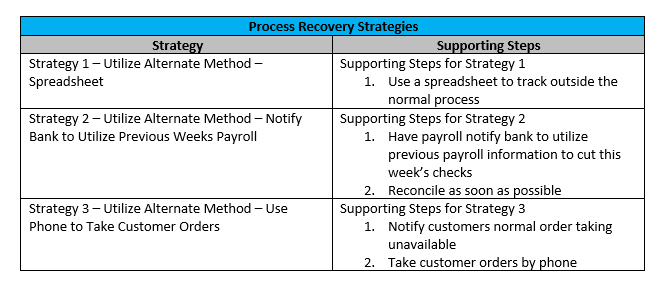 Again, the above is meant to be an example, but taken from real responses. You'll have to work out what is best for your own situation and business. Also make certain that the supporting steps are able to be carried out by your team.
Technology
The technology section usually covers core critical applications that play a functional role in providing or supporting critical processes. For instance, Salesforce, SAP, NetSuite, and other such applications.
Here are some examples:
Strategy 1 – Wait
Strategy 2 – Utilize Alternate Application  
Strategy 3 – Utilize Alternate Method – Spreadsheet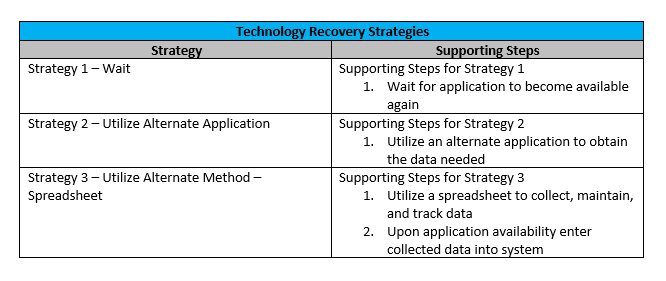 Vendor
It is best to utilize multiple vendors whenever possible. It is just as important to source secondary and tertiary vendors prior to an incident occurring. Yet, many businesses continue to utilize source at time of incident, I highly recommend you do not wait for an incident to occur.
Whether your vendor supplies a product or a service, you do not want to rely on one vendor and have them be impacted by an incident and stop suddenly serving you.
There are vendors that are the only ones that provide key products or services. Some of these single source vendors have a long lead time as well for obtaining new product. If this is the case, try to anticipate future needs and acquire or purchase the equipment or product before you need it. In many cases barring a disaster you should be able to accurately forecast for your future needs.
Equipment and Asset Location
Any team that requires critical equipment or assets to complete a function or process should know the specifics about these key items including, where they are stored, and what vendors they are associated with.
For instance, facilities should be able to locate and shut off, power to the building, main water shut-off valve, main gas shut-off valve, HVAC power cutoff, Sprinkler system shut off valve, etc.
You may have a key locker, decontamination equipment, laboratory equipment, laser cutters, CNC machines, key records, and documents, etc.
The location, key numbers, serial numbers, vendor, replacement cost, etc. should all be documented.
Annual Exercising & Testing
I generally do not like to use the term testing as some feel it has negative connotations. However, it is also a widely used and accepted term as is exercising. The main reason I avoid the term testing is that it causes some people unneeded and unnecessary anxiety. There is no need to make people feel like they are being placed under a microscope and examined.
With all of that said, annual exercising of business continuity plans should be the minimum number of times the plan is exercised or put into practice. Some, businesses will exercise some plans twice per year. Others struggle to meet the minimum requirements, and those businesses tend to run into trouble for several reasons.
 First, if the plan is not being exercised yearly at a minimum, it is not likely being maintained or updated either. As the yearly exercise usually provides insight into needed changes to the business continuity plans.
Second, the more time that goes by without exercising, the less practice teams have in implementing the plan, and the more outdated it becomes.
When it comes to exercises, I developed an easy to implement and follow methodology called Learn, Practice, Implement, Challenge™.
This methodology has generated a lot of success among our clients and provides a clear definitive process of progressing through the maturity levels of both a business continuity exercise program, but to the overall business continuity program as well.
You can learn more about our proprietary exercise methodology Learn, Practice, Implement, Challenge™ here.
One additional thing we provide to our clients is an exercise scenario booklet that they can utilize to conduct quick exercises and discussion around impacts, recovery strategies, and more. These are designed for teams to add a 3–5-minute discussion around their planning during scheduled team meetings.
This also provides these teams with an edge and the ability to exercise on a small scale more frequently without being disruptive to normal business operations or requiring many resources.  
For overall exercising of your business continuity plans It is best to set at minimum a yearly schedule at the outset of the program or planning initiation. Once the business continuity plans are at the end of their initial completion a tabletop walkthrough of the plan should be done.
I'll be doing an upcoming article to provide more information and a deeper dive into conducting exercises soon.
In the meantime, please check the following articles on the Erwood Group Blog.
Why We Exercise Part 1 of 2 and Why We Exercise Part 2 of 2
Annual Review and Maintenance
Each business continuity plan should be reviewed and updated annually to ensure it is maintained in perpetuity. Ideally, each plan will be updated as key changes to personnel, processes, technology, and other changes occur.
If done in this manner, an annual review will be easily done with a quick once over, a brief exercise, and updated per key findings that come out of post exercise debriefings.   
It is important to note here that another key reason for business continuity plan failure occurs when the plan is not dutifully maintained and becomes out of date. Usually when this happens, it is no longer about updating the plan but creating a new one beginning the process over again.  
Appendices with Supporting Documents, Tracking Logs, and Recovery Forms
The appendix is where you will want to keep key documents needed as part of the recovery process. This includes Vendor lists with contact information, tracking logs, and recovery forms.
Some Additional Information on Business Continuity
The below is some additional information about some key terminology used within the business continuity, contingency planning and disaster recovery industry.
Continuity
If you need more information about business continuity, take a look at our recent article What is Business Continuity and don't miss our whitepaper on the Importance of Business Continuity too.  
BCP and BCP Meaning
The Business Continuity Plan, commonly referred to as a BCP in the business continuity planners within the contingency planning industry is an important document or series of documents utilized to recovery core business functions so that you can continue to provide goods and services to your customers at an acceptable level.
What is a Business Continuity Planner?
A business continuity planner is more of a loose phrase that also covers business continuity manager, business continuity analyst, contingency planner and many other such positions. A business Continuity Planner is the person who works within a business to organize, coordinate, develop, and create business continuity plans and programs. They are also charged with overseeing the future ongoing processes lifecycle, maintenance and improvement of the business continuity plans and programs.  
Business Continuity and Disaster Recovery
There are many that speak of Business Continuity and Disaster Recovery interchangeably. However, the truth is they are more nuanced than that. Business Continuity really refers to the overall business functions and processes and keeping the business operations running while Disaster Recovery (DR) is really Information Technology specific. It is also referred to as ITDR. The ITDR focuses on applications, data, network infrastructure, data centers and all things IT related.
BCP vs DRP
Well, this is a bit more complex, as some vendors and providers like to spin or develop their own language around what is and isn't something is. In the last several years, Disaster Recovery Plans (DRPs) have become synonymous with a Business Continuity Plan (BCP). We here at Erwood Group prefer to utilize the term BCP over DRP since the term Disaster Recovery is usually reserved for Information Technology and is also referred to as ITDR.
We have seen the use of the term DRP generate confusion in the businesses that use the term. This is one of the reasons why we recommend the term BCP over the DRP terminology.
However, the terminology used is also most often selected by the client and the use of this term is becoming more commonplace.
Let's set the record Straight
BCP
As previously mentioned, we stated clearly what a BCP is. It is focused on continuing business operations at an acceptable level. BCPs are focused on the business processes and supporting tasks as well as the technologies that are utilized to complete them. It is not just a risk assessment or business impact analysis as those are separate documents. The RAs and BIAs are usually only just briefly mentioned within the Business Continuity Plans. Check our definitions at the top of the article if you're still not sure what a Business Continuity Plan is.
DRP
Some people are stating that the DRP or Disaster Recovery Plan is the plan that is required to recover the business functions and processes. While this is incorrect and can cause confusion, it is becoming more common to use Disaster Recovery Plan (DRP) to refer to the overall business recovery plan in place of calling it a business continuity plan. Where this causes confusion is that Disaster Recovery (DR) or Information Technology Disaster Recovery (ITDR) as mentioned above are intended to be technology specific. 
So, when you're referring to one over the other it is best to avoid confusion, especially during a crisis. When someone says "refer to your Disaster Recovery Plan" it is important to know exactly what they mean. This is why it is also important to keep your crisis communications simple and to the point.  We hope you'll agree and keep the language less confusing.
What Business Continuity Is Not
Another area of confusion created by some providers is that some of them sell appliances in hardware software, cloud-based, and other hybrid models as providing business continuity. While some of these appliances do assist with disaster recovery and some with business continuity to a specific area, there is no one single or multiple devices or appliances that provide real and complete business continuity to a business.
BCP Reporting
Business Continuity Plan Reporting is usually done at a rate the best applies to the business needs. Many will run monthly or quarterly reports as to the status of plans, exercises, and updates and yearly reviews. Most will perform this task yearly when annual reviews are due for accountability purposes.
Risk Assessment Reporting
Risk assessment reporting is usually done by an internal risk management team and reporting generally is reserved for executive management who are the primary target audience. Sometimes this is done quarterly. I recommend that if done infrequently businesses stay abreast and aware of emerging risks either internally or externally.
You can do this by subscribing to the Erwood Groups Annual Emerging Threat Report or through our weekly View 360 Report. Subscribe to both and stay up to date on all current and emerging risks that may impact your business.
Business Impact Analysis Reporting
Business Impact Analysis reports are presented to executives and business continuity program sponsors and stakeholders to provide both high-level and fine details of the current impacts the business faces. These are often done every three years or when BIAs are conducted.
Financial Impact Analysis
The Erwood Group specializes in and has developed proprietary tools to conduct Financial Impact Analysis for businesses along with our BIAs. This allows businesses to set better strategies and Recovery Time Objectives that are backed financially and provide a more effective cost-benefit analysis of the business recovery strategies.
Recovery Time Objective
The Recovery Point Objective (RTO) is a key finding that sets the timeframe from the declaration of an incident until the recovery of a business function or process.
Recovery Point Objective
The Recovery Point Objective (RPO) sets the amount of data in a specified period that a business can lose. For example, a four-hour RPO sets the acceptable loss of data at 4 hours.
Maximum Allowable Downtime
Maximum Allowable Downtime (MAD) is the maximum amount of time the business can have a function or process that is unavailable. It is usually the least common denominator, or the shortest RTO defined in the processes for that function. For example, if a business function has process 1 with an RTO of eight hours but process 2 at four hours the MAD would be 4 hours.
BCP Software
There are numerous companies and providers of BCP software available on the market. I have used nearly all of them in supporting various clients. The most common question is which is the best?
This really depends more on the business needs, the cost of the software over the life of the program, and the ease of using the software.
Generally, they all do the same thing. Assist you in creating, managing, and storing your business continuity plans.
They also present their own problems. Using software, it is easy to just go through it and select check boxes and move through the process without deeper expansion.
In many cases, it also presents a single point of failure as most businesses will only keep their business continuity plans within the software being used. I have seen this fail many times. Don't allow your business continuity software to become your single point of failure.
In conclusion, I hope that this information is enough to get you started on building your business or organization's business continuity plans.
If you still have questions or need additional help, please schedule a consultation and we'll be happy to assist you.